China Panda Volunteer Program
Are you a panda enthusiast? Do you want to have a close contact with giant pandas? Then join our China panda volunteer prgoram, you will have an opportunity to work with the panda keepers and take care of pandas. Now book a panda volunteer program with us for a hands-on experience that will stay with you (and your family) for a lifetime!
WHAT IS GIANT PANDA VOLUNTEER PROGRAM?
Giant panda volunteer programs comprise ordinary volunteer program and professional volunteer program. They are participatory activities for panda enthusiasts to have close contact with pandas, interact with pandas, help pandas, experience panda feeding, and do scientific research. Since 2003, the giant panda volunteer programs have become a special tourism project in Sichuan province, China. The programs attract many participants from all over the world every year.
TASKS FOR ORDINARY VOLUNTEER
There are many tasks that are routinely performed by ordinary volunteers at the panda bases. After a short training/orientation, volunteer service might include, but not be limited to:
Cleaning bamboo
Cleaning panda areas and enclosures
Cleaning general areas of the panda centers
Cleaning and sanitizing the panda play ground
Make cakes/bread for the pandas.
Preparing food for the pandas such as carrots, apples, vegetables, panda bread and their nutritional biscuits
Carrying lots of bamboo/cracking bamboo/fruits
Sometimes you might be able to help collect behavioral data
TASKS FOR PROFESSIONAL VOLUNTEER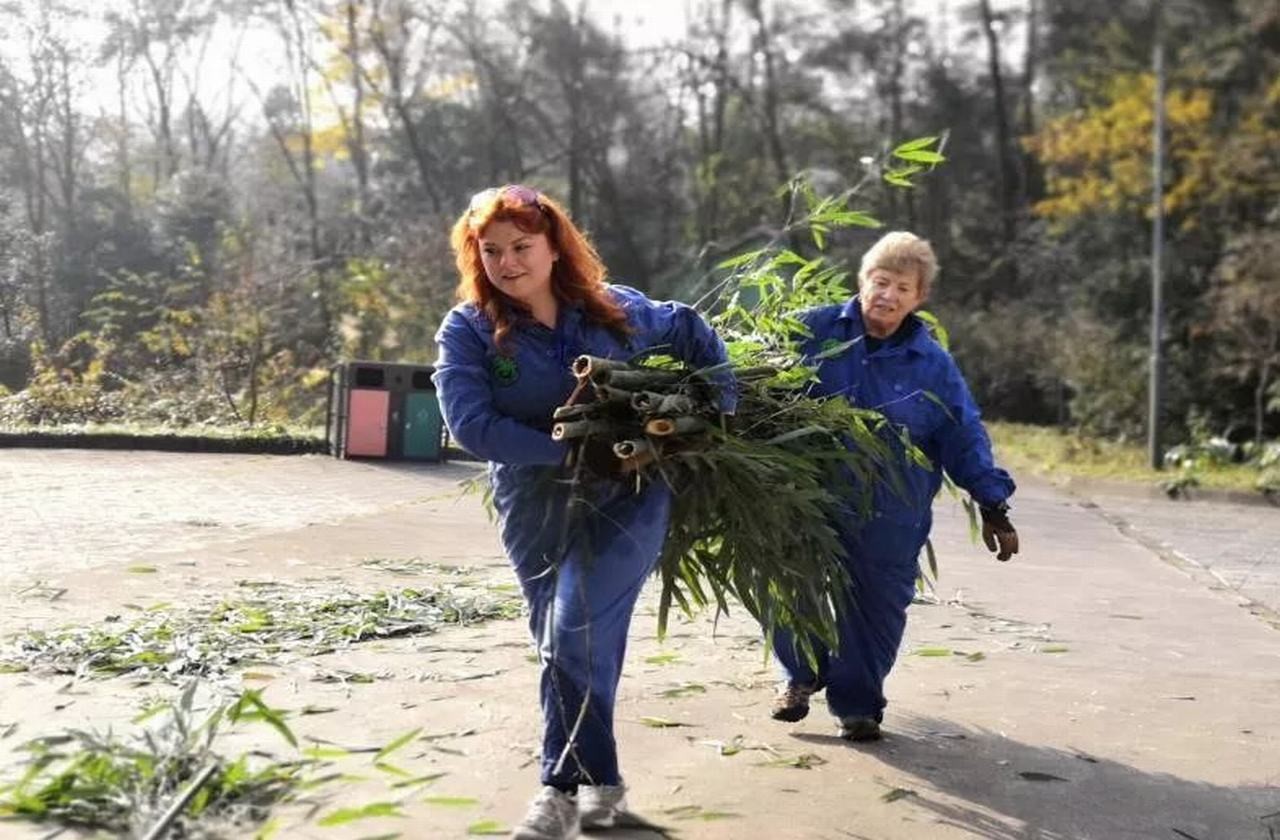 Observing and researching the giant pandas' behavior. Under the guidance of giant panda experts (or panda keepers), learn how to collect the giant pandas' behavior data. Design research topics, collect behavioral data, analyze behavioral data, and form research reports. This job is mostly applied by college students or scholars majoring in animal and behavior.
Assist in browsing the panda website and publish articles to let more people understand pandas and how to protect pandas; communicate with panda experts and educators; guide and explain to tourists at the panda bases, etc.
Data analysis. Mainly analyze the field surveillance video data, fill in forms, and analyze behavior of the wild pandas & the status of the captive pandas.
Handling search and protection work in the field. Searching and analyzing the wild pandas' activities with the fieldmen in the field (natural reserves); prevent poaching and hunting, and popularize environmental protection knowledge among the people.
Biochemical analysis on veterinary. This is only applied by professionals who major in veterinary or veterinary medicine.
Researching and analyzing the data of wild training for captive born giant pandas (these pandas will be reintroduced back into the wild). This work is only for professional.
WHERE CAN I DO PANDA VOLUNTEER PROGRAM?
Currently, Dujiangyan Panda Base (China Conservation and Research Center for the Giant Panda Dujiangyan Base), Bifengxia Panda Base (Ya'an Bi Feng Xia Base of CCRCGP) and Wolong Shenshuping Panda Base (Wolong China Giant Panda Garden) offer giant panda volunteer programs. Please note that volunteer numbers at the panda bases are strictly limited. It is recommended to make a reservation of the panda volunteer program at least 10 days in advance, and even 1 to 2 months earlier for volunteers during peak seasons (mainly May to October).

WHO CAN JOIN THE PANDA PROGRAM?
For travellers aged 12 to 65 years, they can participate in the panda program for ordinary volunteer. Each traveler must present a valid medical certificate.
THINGS YOU NEED TO KNOW BEFORE CHOOSING A PANDA BASE
| Panda Base | Distance from Chengdu | Panda Number | Volunteer Length | Volunteer Number at One Time | Age Limit |
| --- | --- | --- | --- | --- | --- |
| Dujiangyan Panda Base | 62 km (1-1.5 hrs) | 30+ | 1 day | 50 | 10-70 |
| Bifengxia Panda Base | 155 km (2.5-3 hrs) | 40+ | 1/3 days or longer | 40 | 12-65 |
| Wonglong Shengshuping Panda Base | 100 km (2 hrs) | 30+ | 1 day | 15 | 12-65 |
DO I NEED A HEALTH EXAMINATION FOR BEING A PANDA VOLUNTEER?
Every volunteer must have a health examination form. You should apply it a week in advance with your Application Form and Health Examination Form (valid medical certificate and signature which could apply it in your country or in China). If you want to get more information about the form, please contact our travel consultant when you book a panda program with us.

WHERE CAN I BOOK PANDA VOULUNTER PROGRAM?
Few things are as delightful as observing the wonders of the giant pandas first hand. If you are interested in volunteering, you will need to arrange your own travel to and from China and to and from the different panda bases. We (Local Chengdu Tours) offer assistance in arranging both travel and lodging. Once you have travel arranged, you may contact us with the dates you plan on volunteering at the reserve. Also, you can directly book one of our giant panda volunteer tour packages (only for ordinary volunteer as traveler) below:
1-day Experience Dujiangyan Panda Base Volunteer Program
3-day Chengdu & Dujiangyan Base Panda Volunteer Program Tour
1-day Bifengxia Panda Base Volunteer Program
2-day Bifengxia Panda and Mengding Mountain Tea Tour
3-day Mount Siguniang & Wolong Panda Tour
*Please note that the length of volunteer program at Bifengxia Panda Base is different from Dujiangyan and Wolong. If you want to enjoy more volunteering, you can extend your program up to 3 days or more longer.
The above are our suggested itineraries for panda volunter in China, however given the highly specialised panda volunter tours in China we prefer to create tailor-made itineraries to match individual interests and requirements – please get in touch via the trip planner form or email to tell us about your plans.

TIMELINE OF ONE DAY PANDA PROGRAM


ABOUT THE PANDA PROGRAM
The volunteer program's agenda may be adjusted a bit according to the base's daily schedule.
Each panda program includes lunch. The canteens at the panda bases serve guests typical Chinese food (chicken, pork, seasonal vegetables, plain rice etc.)
The volunteer program may change without any notice from the panda base or influenced by the government control, nature force majeure. We cannot guarantee you all the work listed in the program could be carried on efficiently. But we will try our best to make your dream to come into true.
CAN I HOLD A PANDA DURING MY VOLUNTEER PROGRAM?
"Playing with pandas or holding a panda" has been prohibited at all panda bases since November 2018. While you might have seen photos on the internet of tourists playing with pandas this practice is no longer allowed due to diseases, illnesses and infections that the pandas could acquire from humans. You will also have plenty of time to watch and photograph the pandas each day you volunteer.
PHOTOGRAPHY GUIDELINES AT THE PANDA BASES
Photos may be taken in open/public areas and can be posted on the internet or social media.
Photos taken in non-public areas can NOT be posted on the internet or social media. If photos are taken in non-public areas, permission must be given by the keeper or person in charge in order to take any photos.
Photos taken during volunteer activities of feeding or touching the pandas can NOT be posted on the internet or social media.
If you pay to have a photo taken with a panda or receive this privilege as part of an adoption- these photos can NOT be posted on the internet or social media.
We request that your photos be used for your own personal memories and not for social media promotion.
THINGS YOU NEED TO KNOW AS A PANDA VOLUNTEER


The following should be kept in mind as you enjoy the unique experience of spending some "up close and personal time" with the pandas and their caretakers:
As your volunteer time will include a lot of manual labor in close proximity to the pandas, be sure to wear appropriate footwear for both comfort and protection. We recommend closed-toed hard leather shoes or sports shoes, better no short pants, sandals, skirts.
Avoid using perfume or snail oil or any cream product with strong smell.
No matter how "adorable" they look, giant pandas are not pets or toys and should not be treated as such. They have sharp teeth, strong jaws and powerful claws so even a playful interaction can cause harm.
Volunteers need to be prepared for relatively hard work as they assist the caretakers in their daily chores.
Since pandas spend about 14 hours a day eating and don't efficiently digest their food, expect a lot of "shoveling" as part of your volunteering.
You'll also be called on to help carry bamboo to the pandas, and to sweep up the old bamboo.
Expect to spend some time chopping up various foods for the pandas. If you are helping to feed them, remember pandas have strong jaws so be sure to remove your hand from what you're feeding them before they take a bite!
Remember that new, young Chinese caretakers will have a cultural prohibition against telling a foreign tourist to stop something they shouldn't be doing.
Do NOT tip the keepers or anyone else at the panda bases. No government employees can accept cash and if they do they can lose their jobs. You are more than welcome to invite them to lunch, give t-shirts, chocolate, or coffee.
Keeping these things in mind will help assure a problem free, unforgettable experience.